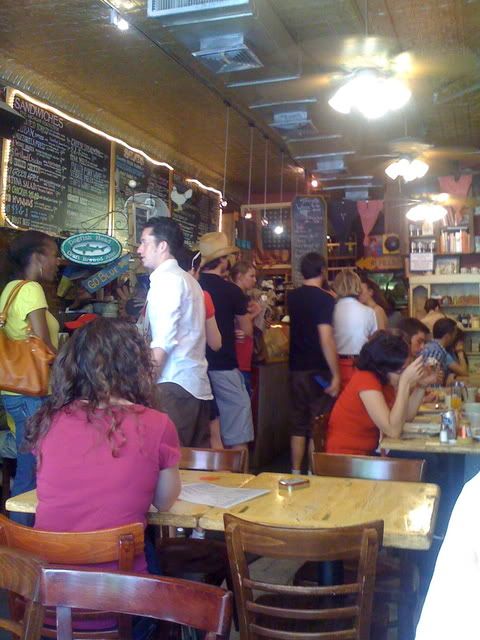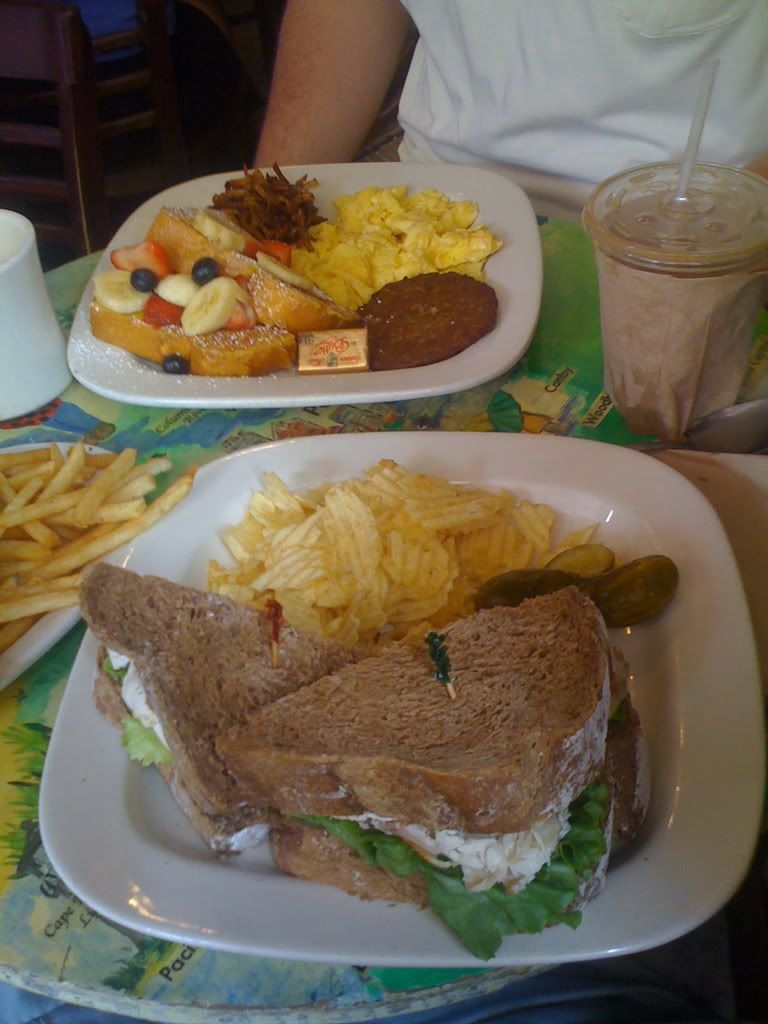 Jim
Well, it's finally time for my first bad review. Grey Dog Café in the West Village will be the proud recipient of my ire, and for a wide array of reasons. I'm going to make this easy. You and your party have to stand in line and place your orders, so no time to start on that cup of coffee while you decide. You and your party have to bring all silverware, condiments and napkins to your table. You will not be given a glass of water (I've never been somewhere that didn't). You will pay more than if you had gone somewhere and had an actual waiter.. The food was ok, but I think I paid around 16 bucks for a couple scrambled eggs, 2 pieces of French toast and a mediocre cup of coffee. Extremely not worth the money or time. I understand we're in the west village, but come on here people. Its like anyone can put on good tunes, hire 'hip' looking people, and you'll be a hot brunch spot regardless of food and service. I'll stick to the diners, thanks. By the way, if I have to go downtown and deal with hipsters acting better than me even though they have some menial job like a café host, I'm going to start another blog to deal with that.



Price: Very overpriced/overrated.


Service:

Can you rate something that doesn't exist?


Minuses:

Crowd, employees, seating system.


Bonus:

Errrr, the music they played was ok?


Verdict:

I will absolutely never be back.
__________________________________________________________________


Ann
Sunday Brunch. Usually the furthest Jim and I venture for Sunday brunch is pancakes in the kitchen or across the street to Renaissance. This Sunday we made the brave trek down to the village to meet friends and cousins at Grey Dog.
Oddly enough, three out of the six in our party had been here before, but didn't remember until we got there. What exactly does that mean? Probably a forgettable experience, you say? Sadly, I wish it had been more forgettable friend. I have an affinity to bohemian coffee shops with dog art on the walls and baked goods. Alas, The Grey Dog has been annihilated my list for its poor service and its poor, poor (head shakingly poor) modus operandi.
Price:

About right for the village. 6 people, about $90?




Service:

Total bust. Dirty hipsters greet you into the bedlam of pandemonium. You tell them how many in your party. You are ushered deeper into a line that looks like its for drinks? You order at the counter between the bathroom and a small nook with dinnerware, napkins, syrup. You sit, wait and are served eats, but do you leave tip? I saw the staff asked a two top to move over so our party could sit. Then asked them how much longer they were going to stay. For shame.


Minuses:
Luckily we received the row of seats by the open storefront but that meant I was unable to make my way to the tiny nook for a small packet of Splenda.
Portions are sizable. Especially the 1-inch thick slices of bread. Now, I love when a place has huge, triple sized, heart attack inducing, thisistheresasonAmericansareobese portions, but the sandwich slices seemed excessive to me. Maybe because it didn't taste that great, but I left most of it on the plate.



Bonus:

It's a nice neighborhood to walk around in afterwards. There's fun, quirky art on the walls and they play good music. (Jim is just a snob)


Verdict:

Was it our thoughtlessness in bringing six people? In our defense, we went at 1:30 in the afternoon. Brunch rush should be over by then and us lazies can stroll in. The bewildering system of ordering a sandwich still floats question marks above my head. The food? Not much of anything. And Jim says we can never go back.
Grey Dog's Coffee
33 Carmine Street