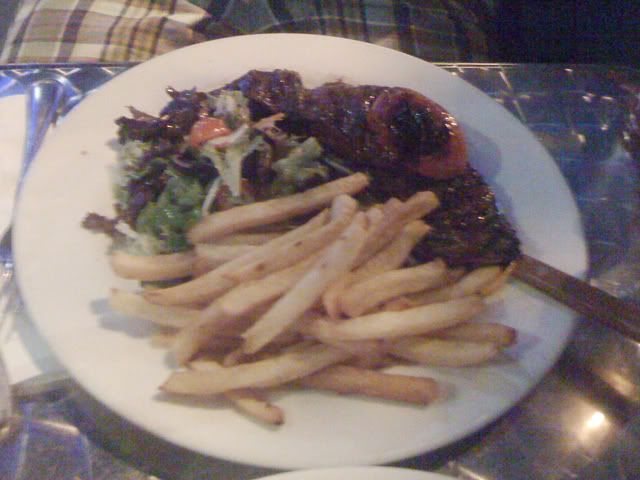 Jim

Looking for the perfect mix of a decent menu and available outdoor seating can be a tough task, but Blue Point Seafood on 9th Avenue was sufficient in both. To start, the atmosphere was perfect for a summer night, having a table on the sidewalk. I understand it is a seafood restaurant, but the lack of at least one non-seafood appetizer was a little disappointing. With that, we went with a Caesar salad to start. Nice, but nothing special. For entrée, I was able to find a beef selection in the form of a skirt steak with fries. When the dish was served, the presentation was very nice, and the portions were plentiful. The steak was cooked and seasoned perfectly, and the meat was extremely tender. Overall, great summer place to go, seafood lover or not. Price: My steak dish was $18. For what I got, I had no problem at all with the price. You will definitely pay more than this for meat at equal or sometimes less quality.



Service:

Is it me or does it always seem like the service is juuuuust a tad off when you sit outside? The service here was definitely not a minus, but not a plus either.


Minuses:

No non-seafood appetizer. They should always have one for someone such as myself.


Perks:

Entrée was terrific. Outdoor seating is always a huge plus.


Verdict:

I'll be back next time Ann wants seafood.
__________________________________________________________________



Ann


Saturday night was one of those supercool summer nights that make you thank your lucky

freaking

stars we live in the city with a billion restaurants, people dressed up for Saturday nights and the drunk people on the street at 7:30pm. Nothing is more entertaining then people watching. Except of course people watching while eating. Hence, our choice of the Blue Point on 9th Ave., seafood and quasi French with outdoor seating. In the past, I've always avoided this restaurant. The vertiginous combination of neon blue and green spewn over its front, further buttressed by a disco-esque shimmery bar has never exactly made my insides growl. But when Jim agrees to a seafood restaurant, you do not say no.

Service:

A little too attentive? It puts me on edge, but nothing negative or interesting to say about it either way.


Minuses:

The description on the menu told me what came with my monkfish, but not how it was prepared. Also, I dont think anyone asked Jim how he would like his steak cooked? I could be mistaken. The Caesar salad was a little too wilted and warm and under seasoned. Boring italian bread slices.
Perks:

Entrees were fantastic! Monkfish seared with basil corn and shrimp sauce was a perfect summer dish. Jim's skirt steak was unbelievable. So was the salad it was served with. Tiny little sliced radishes and dressed well. Excellent!




Verdict:

Don't judge a seafood restaurant by its flashy gay bar looks!
Blue Point
622 9th Ave.