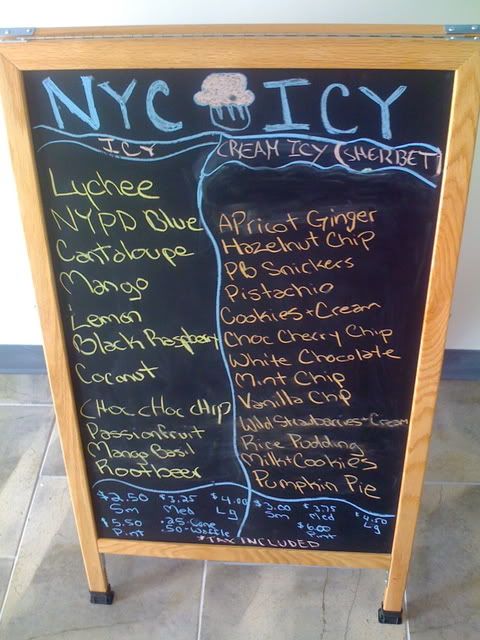 Jim



I have been anticipating the arrival of NYC ICY for quite some time now, and that usually means disappointment. However, this delightful dessert spot was all I had hoped for. After meeting the owner who was very nice, we headed in and tried to take in all the selections. There are two types of ice; one being the classic water-ice-in-squishy-white-cup stuff we all know and love, and of course, the creamier gelato type. After sampling a few, I had to go with the Hazelnut Chip. It was perfect. Nice portion for a large cup, creamy, great flavor. It was so good, I went with it again the next day, though I got a scoop of white chocolate in there too, which was a perfect combo. I'll be rooting hard for this little gem, as the neighborhood might prove to be a tough task for long term success. But then again, my newfound love for that Hazelnut Chip might be enough to keep them afloat.





Price:

Very large cup for under 4 bucks, great portion.


Service:

Met with owner and spoke with servers, all very friendly.


Bonus:

Situated on 10th avenue at 44th street, it might not get the exposure it deserves. Better alternative than ice cream for your summer indulgences.


Verdict:

Good chance I'll be there if you go.
_____________________________________________________
Ann

Since Jim and I have been waiting for this opening since last year, I was very eager beaver to head down to 44th on Friday
. Since I couldn't wait until after dinner, gracious Jim indulged my Friday afternoon yearning. At first glance it's pretty sparse, with just a few chairs outside and in. We owner Suzie and she was very nice to us and my dog ,even offering to hold her while we ordered. I love that. And if you've never had NYC ICY before its basically italian ice, with ICY (nondairy) and Cream ICY (a little bit of dairy) flavors. I dislike flavors like
chocolate sorbets
, so I was weary of try the diary. Instead, I opted for lychee. IT DID NOT DISAPPOINT.

Price:

Ranges from $2.50 to $5.50. Pretty good considering your choices like Pinkberry can run you $15 for 2 people. Crooks!

Service:

EVERYONE is nicenicenice! The nice girls can recommend flavor combinations and offer to give you half-and-half's if you cant decide between 2 (Jimmy).

Bonus:
Tasting! NYC ICY offers you as many tastes as you like. Not like those gelato nazis like at Cones who are mean if you want to taste 2 flavors. FASCISTS!

Downfall: 10th ave is a far walk for most people, but I think they've opened an outpost in Brooklyn. (but that's far too)
Verdict:

LOVE. I loved it so much, we went again the very next day. And they remembered my dog!

NYC ICY
628 10th Ave.